Module choice
Module choice takes place at various points throughout the year. This means you need to start thinking about which elective modules you would like to study for the next academic year. If you are trailing modules you will not be able to select online and will be contacted separately to make your choices.
Once you have made your selections you will not be able to change them, so please ensure you are happy with your choices before submitting them. Read our help pages and check your SHU email account for further information.
Please contact Hallam Help for any queries regarding your module choices.
Elective language modules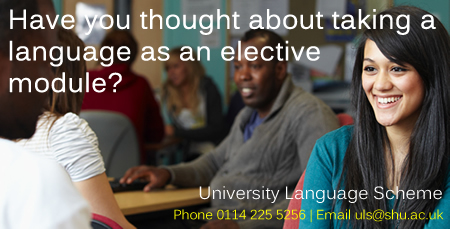 With the new semesterised delivery of modules in Sheffield Business School you will still study the language in semester 1 and continue in semester 2, (two 10 credit modules). Your ULS language results will be confirmed at the assessment boards in both semester 1 and 2, for you to chart your progress in the module over the two semesters as a whole.
If you are a Level 4, 5 or 6 student in SBS in 2018/19, in the rare case where you do not achieve 40% in your semester 1 assessments, you will have the opportunity to complete In Module Retrieval (IMR), where if you pass the IMR, your mark will be capped at 40%. This is to support you to progress in, and pass, your ULS module.