SHUgo maps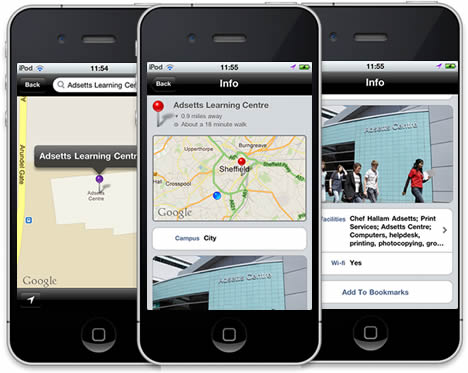 The maps module contains details of both on and off campus SHU buildings and services, so whether you want to find out where your exam is, or where the nearest cafe is, the Maps module is for you.
When you search for a building and tap the blue arrow on the pin, you will see a map, a photo of the building, faculty / department information, plus a list of facilities.
You can also search for services like Chef Hallam outlets, Print Unit and Sports facilities.
Try it out!
Search for the building or service you want to locate - for example "Adsetts", or "Chef Hallam"
Select your destination from the list of results and the screen will zoom in on the map and a lable will appear
Tap on the label - this will take you to a page of information about the building
View a photo of the building, how far away from it you are and how long it will take to walk there
Scroll down for contact details and a complete list of facilities
Add to bookmarks
Let us know
if you like the maps module or if we could improve it....
Not what you wanted? Try these pages: