Student surveys and feedback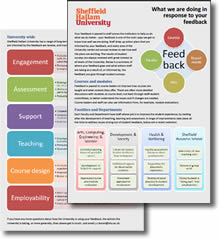 Whilst you are studying at Sheffield Hallam University you will be asked to take part in a number of surveys of your experience. The University realises that your time is valuable and works hard to try and avoid over-surveying, so we are currently monitoring which surveys are being carried out and reducing the amount of large scale surveys we ask you to do.
Which survey will I complete?
What happens to the results of student surveys?
The data you provide through internal and external student surveys makes a big difference to the university and is used in a number of ways:
to enable the University to identify what is working well for students and where there is room for improvement
to provide people outside the University (future students, careers advisers, employers) with an accurate picture of the student experience
to feed into the University's processes for improving quality that are reported to external Government bodies
All the information you provide is confidential and your responses will be anonymised before they are communicated to staff and students. Summary statistics and anonymous student comments may be used in external reporting and research publications.
Comments box
If you have any comments about this page or questions about how the university responds to student feedback, please get in touch.
Can I feedback to the University without taking part in one of the surveys?
These surveys are incredibly important to get a good picture of the student experience at Sheffield Hallam, but we also recognise there will be things you'd like to tell the University when major surveys aren't running, or there may be issues you need to feed back immediately.
There are lots of ways you can do this:
Contact your course student representative and ask them to raise the issue on your behalf (if you're not sure who your course representative is, ask your course leader)
Contact your module or course leader and discuss it with them directly
Discuss with a member of staff you are comfortable talking with, for example an academic support tutor
Use any module or course evaluations that are carried out
For IT and library services please use the Have your say blog
For accommodation, catering, events, estates, portering, security, printing, sport or timetabling, email Facilities Directorate or complete one of the comments cards you'll find at every outlet.
Not what you wanted? Try these pages: